MA 50.X2.A Moisture Analyzer
---
Maximum capacity [Max]: 50g
Readability [d]: 1mg
MA X2 moisture analyzers are hi-tech measuring instruments intended for quick determination of relative moisture content, dry mass content and other parameters in samples of different substances. 

MA.X2.A series is equipped with innovative system: the drying chamber can be opened and closed automatically using button or proximity sensors
Such solution allows:
- Maintaining moisture analyzer clean – operator does not touch moisture analyzer's housing.
- Removing any shocks caused by manual closing of the chamber – the chamber closes automatically and always with the same intensity.
- Achieving high repeatability of opening and closing the drying chamber.
- Enhancing drying process automation.
- Enhancing safety of operation by eliminating contact with hot components of drying chamber.
- Improving operation ergonomics.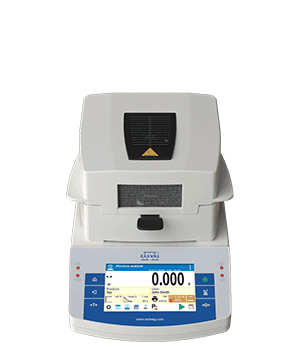 MA.X2.A series features user-friendly colour touchscreen. Free configuration of the control panel can be done by means of hotkeys, customizable information fields and programmable labels. Drying process can be carried out for any temperature and – thanks to databases – particular drying process may be set for a specific product.
HIGHLIGHTS OF X2 SERIES MOISTURE ANALYZERS:
- Automatic opening and closing of the drying chamber
- 5" capacitive colour touchpad
- Modern interface
- Uncomplicated, intuitive operation
- Programmable display
- Drying profiles (standard, mild, step, fast)
- GLP/GMP printouts-reports
- Repeatable and customized applications
- Work optimization due to the use of halogen lamps
MA.X2.A maximum capacity ranges from 50g/0.1mg to 210g/0.1mg. Moisture content is measured with the 0.01% accuracy (0.001 % for samples bigger than 1.5g). The maximum drying temperature is 160˚C (there is an optional moisture analyzer with 250˚C maximum temperature).
An additional element for moisture analyzers that improves their functionality is a water vapour permeability determination set used in tanning industry for determining hygienic properties of leather.
DATABASES:

Information system of X2 series moisture analyzers is based on 6 databases, allowing many users to operate product database comprising many samples. Collected measurements may be subjected to subsequent analysis.
Collected data is registered in 8 databases:
- Products (up to 5000 products)
- Users (up to 100 users)
- Packaging (up to 100 packaging)
- Customers(up to 1000 customers)
- Drying programs (up to 200 drying programs)
- Drying process reports (up to 5000 drying process reports)
- Ambient conditions (up to 10000 records)
- Weighings (up to 50000 records)
USB interface ensures quick transfer and copying of any results of your work (measurements, reports, databases) to a computer or other moisture analyzer. Remote access to the moisture analyzer allows for online data management. Cooperation with E2R allows for external data management which in turn increases the efficiency and results to the maximum.
Warranty Information
All products we sell are covered solely by the manufacturer's warranty. Warranty information is included with the product and is subject to the conditions set forth by the manufacturer. We include such information in the product details for each item, when ever available. The manufacturer warrants their products are free from defects in material and workmanship. Repair or replacement may be issued for any product which is found to be defective under the terms of this warranty. Wholesale Point will assist with warranty issued within the first 14 days of product purchase. After that time the product manufacturer must be contacted directly to address all warranty issues. In many cases, the manufacturer can diagnose and resolve product concerns over the phone. For more information or to obtain contact information for the manufacturer, please call us +1(786) 420-2018.
Purchasing & Delivery
We take pride in making sure your order gets out quickly. We carefully check every item before shipping and we give extra care to our packaging to make sure every item arrives safely. Orders normally ship via UPS Ground, FedEx, or USPS within 1-2 days when in stock. Some items are drop shipped from the manufacturer and can take a little longer. For your convenience, whenever we ship an order, we electronically mail a shipping confirmation notice including the tracking number from UPS, FedEx, USPS, or a local delivery service.
Drop Ship Orders
Orders that are drop shipped from the manufacturer are subject to the manufacturer's availability and shipping schedule. Some items are special order or built-to-order and can take an average of 5-7 business days to ship. We make reasonable attempts to provide and display a shipping lead time on each product we sell. If you have any questions about our shipping policy or would like to know the availability or lead time on a specific drop ship product please feel free to contact us via our Contact Us Page. If you would like a drop shipped item expedited, please place your order by phone to guarantee your order can be expedited.
Payment Policy
We accept Visa, MasterCard, PayPal, American Express, and Discover.
Please note: When the checkout/customer details section asks for your "personal information", please enter your full name and billing address. The name and address you enter must match the information you have on file with your credit card provider, or the order will not be authorized.  If your credit card gets declined for any reason, a charge may show pending on your account.  This charge will fall off usually within 24-48 hours depending on your bank.